Meteorologists expect second winter storm in span of a week but they are not sure where it will hit…it seems from GFS model precipitation forecast consistency that the most affected areas will be around Philadelphia and New York City. These areas could be covered by 10-30 cm of wet snow during next night combined with wind gusts up to 100 km/h. However, Canadian cold pool is pretty warm these days thus authorities need to be prepared for heavy coastal rain and floods also.
Multiview display animation of typical meteorological fields necessary to recognize blizzard threat – upper level and surface level pressure fields, 850 hPa temperature, 700 hPa relative humidity, surface wind and precipitation.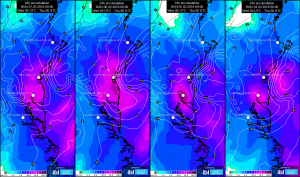 Detailed view of 24h precipitation forecast consistency for the East Coast area over the last 4 days, isolines of zero temperature height above sea level (ASL) are included. The most affected area has 0 deg.C level between 300 and 500 m ASL, thus intensity is crucial factor for precipitation type on the surface.