Visualization without limits
Display data from any place on Earth in any way you want – in real time.
Access all your data instantly.
Produce your own maps and charts.
Create periodical and scheduled tasks based on your needs.
Really bring the weather in your hands!
Have you ever wished for magic powers? Who has not? With Visual Weather the magic is at your fingertips! Visual Weather is a world-unique system tailored to the daily needs of forecasters as well as to the needs of meteorology scientists. It only depends on you which way and how far you go. It is hard to reach its limits.
Visual Weather is a world-unique system tailored to the daily needs of forecasters as well as to the needs of meteorology scientists. It only depends on you which way and how far you go. It is hard to reach its limits.
Conforms to well-known standards
Visual Weather was carefully designed to meet your expectations and to meet all the standards you need. It perfectly covers the requirements for SADIS, RETIM and ISCS receiving workstations. Visual Weather gives you a warranty of compliance to WMO Manuals, and ICAO Annex 3 as well, including the Amendment 73.






Choose your own way
You always have a choice what and how you can do: Visual Weather is always your helping hand. What would you like to do? See a numerical model forecast? Compare it to another model or to observations? Create your own weather chart and send it as JPEG? All can be done. And not only this; with Visual Weather much more is possible!
Basic Information
All your data into one system
The uniqueness of Visual Weather is demonstrated by the variety of data it can handle without confusing the user with all the complexity. Every year Visual Weather provides support for various new meteorological formats. By reflecting the newest technologies, Visual Weather ranks as the world's top meteorological visualization and processing system.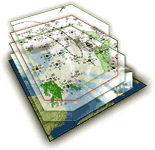 All together , without waiting!
The basic idea of creating map products is laying things together one over another. Orography, satellite, SYNOPs and SIGWX – give your ideas a form and refine it as you wish. Why wait for the results? Visual Weather will give you all this in real time. Do not be afraid of any limits; Visual Weather goes further than your imagination. Don't just display satellite maps as images. Make them a real part of your map. This can take your products to new dimensions. MSG with all its channels and now-casting products is readily available.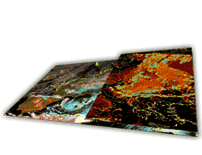 Zoom in and see more details
Visual Weather processes data in real time, it does not limit itself to displaying third-party images. You have a freedom of choice what you want to see and how. Choose your desired projection and the area of interest and let the data be reshaped for you. Everything will be instantly displayed on your screen. Any place on earth, any way you want.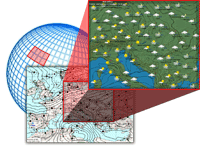 See more and further using the same data
With Visual Weather you go beyond two dimensions and reveal the third dimension of grid-based NWP data and even observed data. Simply get the feeling of volume by examining cross-sections. Or create meteograms to see the development of parameters in time.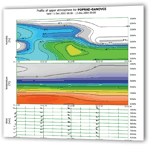 Plug to Internet sources
Do not underestimate the power of the Internet: it can give you much more information than you might expect. The entire world is here for you and this is especially true for the Internet. Just by plugging Visual Weather you may obtain an incredible amount of meteorological data just a single click away from you. Why hesitate to enjoy this option, at least as a backup source?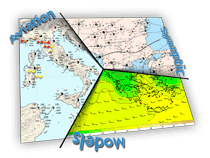 Access all your data instantly
Do not lose control over your data – you can still use the traditional approach to messages as they come into your system. All the database contents can be instantly accessed and brought to your screen. The system automatically recognizes formats of messages and gives you the most suitable representation of their contents. You can also watch reports simultaneously in a split view.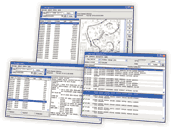 Automate your routine tasks
How much of your work do you still have to do manually? Stop for a moment, and think, for what purpose do you have computer systems? Let Visual Weather work for you as much as possible. Would you like to print the synoptical analysis only after you have received a sufficient number of observations? Would you like to be automatically notified if strong wind is observed or forecasted in the surveyed area? Create your own periodical or scheduled tasks based on your needs.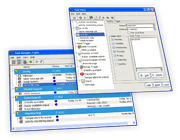 Feature Highlights
Annoyed with output resolution?
Are you proud of your origin and country? So why should it look so imprecise on your maps? Visual Weather is the first meteorological system ever allowing the incorporation of high- accuracy GIS data to be plotted as the land, islands,cities, rivers, borders, or geospatial data of any kind.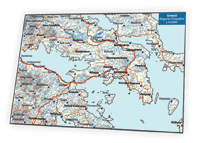 Control your data quality!
NWP models are, well, just models. Only a human can understand the weather in all its complexity. With Visual Weather you may correct NWP fields. Moreover, the field modification is reflected in all related maps and calculations. It is not a trick! It is mathematics.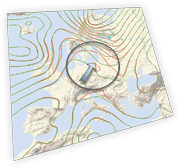 Get ready for decoding the latest formats
With Visual Weather you do not need to be afraid of upcoming standards and formats. We are constantly keeping track of the latest meteorological developments and ways of integration. Expect more than just a model to be displayed.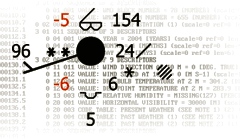 Add your own value with math
With Visual Weather's Mathematical Kernel you will easily recognize that mathematics and science may go beyond NWP. Differences between two or more forecast models are a task for a few clicks. But you can go further, and produce complex calculations. Over a thousand of functions are ready for your use.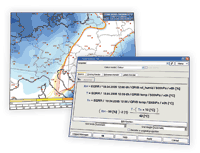 Analyse what is measured!
With Visual Weather's Objective Analysis module you will get a much closer look at the weather phenomena in a composite overview. This nearly gives the power of NWP model supercomputers to your own workstation! And even more – mathematically modified observed data can be objectively analysed in form of regular grid data.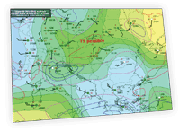 Produce your own charts
No need to wait any longer, you can start producing your own weather charts immediately on your screen.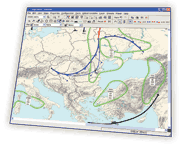 Integration and Scalability
Perfectly scalable architecture
It does not matter whether your environment needs just one system for an immediate operational use. You can have it! And if you need to extend the capabilities and you need a software that follows the size of your office, a client-server architecture of Visual Weather is exactly what you need. You can count on this.
Weather is now in your hands – thanks to Visual Weather's capabilities!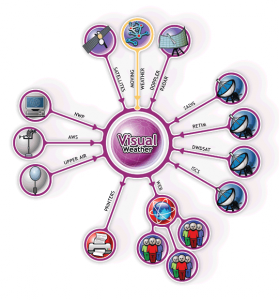 Technical Specifications
Operating system
Servers and stand-alone systems: Linux, Solaris®, Unix
Client workstation: Linux, Microsoft® Windows®, Solaris®, Unix
Compliance
WMO Manual No. 386 (Manual on GTS, incl. Attachment II)
WMO Manual No. 306 (Manual on Codes)
WMO Manual No. 485 (Manual on Global Data Processing System)
ICAO Annex 3 (incl. Amendment 73)
SADIS, SADIS2G
ISCS
RETIM, RETIM2000
DWDSAT
EUMETCAST
Operational Meteorological Database
WMO bulletins and reports
NWP
Spatial Graphical data
WMO data
Spatial Databases
Global Self-consistent, Hierarchical, High-resolution Shoreline Database
GTOPO30 high-precision world-wide digital elevation model
ETOPO1 world-wide digital bathymetry model
High-precision local orography exported from GIS software
Data Formats
Synoptic data: FM-12 SYNOP, FM-13 SHIP, FM-14 MOBIL, FM-18 BUOY, SYNOP in FM-94 BUFR
Upper-air data: FM-35 TEMP, FM-36 TEMP SHIP, FM-37 TEMP MOBIL, FM-38 TEMP DROP, FM-32 PILOT, FM-33 PILOT SHIP, FM-34 PILOT MOBIL, FM-42 AMDAR, AIREP, TEMP in FM-94 BUFR, PILOT in FM-94 BUFR, AMDAR in FM-94 BUFR
Aeronautical data: FM-15 METAR, FM-16 SPECI, FM-51 TAF, FM-42 AMDAR, AIREP
Climatological data: FM-71 CLIMAT, FM-72 CLIMAT SHIP, FM-75 CLIMAT TEMP, FM-76 CLIMAT TEMP SHIP, INTER
Model data: FM-92 GRIB (GME-DWD, LME-DWD, HRM-DWD, UK, Washington, ECMWF, Arpege/Aladin, ETA, MM5-NCAR, RAMS, WAVE (ECMWF, UK, GKSS, …) and other)
Satellite imagery: FM-92 GRIB (various systems), PIF & XPIF (VCS), HDF5 &l MEOS HDF5 (Kongsberg; European MSG NWCSAF Nowcasting project), GeoTIFF (SeaSpace TeraScan; various systems), other third-party receivers for MeteoSat 2nd Generation (MSG), MeteoSat, NOAA, FengYun, GOES, NWCSAF, MPEF, etc.
Radar imagery: FM-94 BUFR (WMO standard, OPERA standard, EEC/DRS, Gematronik), FM-92 GRIB (EEC/DRS, various systems), GeoTIFF (various systems), SRD2 (archives), other third-party radars EEC/DRS, Gematronik, Gamic, CERAD, etc.
Lightning detection systems: FM-82 SFLOC, EUCLID, SAFIR, other third-party
Significant weather: FM-94 BUFR (Bracknell & Washington), SatRep (ZAMG)
Nowcasting: HDF5 (European MSG NWCSAF Nowcasting project), MPEF, PIF & XPIF (VCS), GRIB (various systems), CSV (various systems), other third-party
FAX T4 charts
… and many more
Connection Types
GTS or Switching System
NWP model result files
SADIS, SADIS2G (X.25 reception, UDP reception, FTP backup)
RETIM, RETIM2000
DWDSAT
MSG EUMETCAST
all kinds TCP/IP, asynchronous, file-exchange based and FTP channels
Main Functions
display, generating and printing of surface charts, upper-air charts, weather charts, model outputs, remote-sensing imagery
overlaying of any kind of meterological data and features
display of all NWP products, unlimited number of models and parameters
Mathematical Kernel for extensive model computation and evaluation
combining different models in overlays or even computations between models
extensible satellite and radar support (including nowcasting) with composing, coloring, reprojecting and multi-channel combining of images
producing own weather charts with interactive user-friendly editor
preparing forecasts and forecast charts
horizontal and vertical crossections
various thermodiagrams and hodogram from observations and models
nowcasting data integration
NWP field modification
report correction
objective analysis with model-initialization and numerical quality-control
Presentation Templates allowing on-map visualization of custom bulletins
unification of BUFR/CREX and alphanumeric reports
extended customizable shapefile orography with unlimited precision and content
direct access to received reports and messages
extensive chart and table output including weather monitoring for both observations and models
Output Formats
Bitmap formats: JPG, T4, PNG, GIF, TIFF, BMP, XPM
Scalable Vector Graphics SVG
Adobe® Portable Document Format PDF
Output Delivery
e-mail (automatic and manual)
printer including large-scale plotters(automatic and manual)
GTS WMO messages
File-delivery to specified folders
FAX (automatic and manual)