Aero Weather is an advanced and efficient integrated system for reception, processing, and representation of meteorological data for purposes of providing reliable and high-quality weather information for aviation.  It features an intuitive interface, instant access to OPMET data, forecasts and warnings and automated production of flight information bulletins.
Aero Weather for SADIS 2G
Aero Weather is certified SADIS software. We have a special offer for you if you are looking to install a new SADIS system or replace your old SADIS system.
Fast and easy flight documentation
Instant Briefing
You can generate a Pre-Flight Information Bulletin (PIB) for any flight immediately. Simply select a destination airport, choose the IFR/VFR flight rules and a map collection and a standard PIB with the data relevant for the flight time and flight route will be generated for you automatically.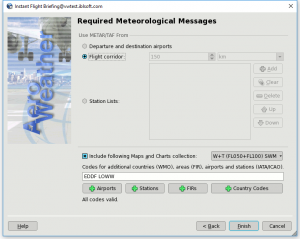 Flight database
Create your own flight database by predefining scheduled flights and specifying the required content for the desired pre-flight information bulletins for each of the flights. The PIBs can be schedules to be generated automatically or you can generate them manually any time with a single click.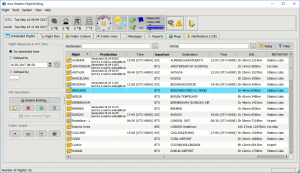 Pre-Flight Information Bulletin output and delivery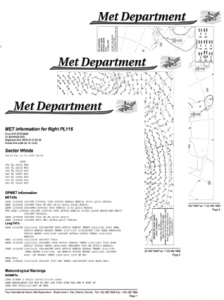 The PIB can include any specified text or image data, including:
METAR and TAF lists from the flight route or the specified stations
SIGMETs, AIRMETs and other warnings from the flight route or the specified FIRs
SIGWX charts, Wind and Temperature charts and any other maps valid for the flight time
Cross-sections for the flight route.
The PIB is produced as PDF at a scheduled time before the flight departure or on demand and it can be previewed, printed, e-mailed or sent to specified FTP destinations.
Web portal for direct access by airlines
Use the Aero Weather Web-portal to provide direct access to flight briefings and other aviation data to your paying customers. The Web Portal features the following:
Based on enterprise web portal technology.
Built-in content management system.
Regular browser used as a client software.
Accessible from desktop web browsers and mobile devices.
User management and billing.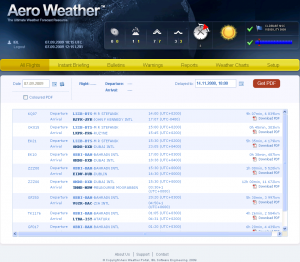 Instant data access
Aero Weather provide immediate access to received meteorological data in a variety of ways. The top toolbar displays the conditions at your home airport to provide a basic information at a glance.
Reports
View the METARs and TAF for single station, for a specified station list or the current flight route.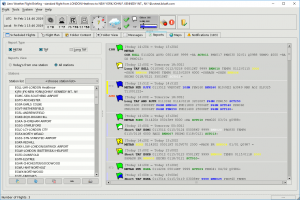 Compliance and Integration
Extend the flight-briefing functionality
Aero Weather is a module-based software that can be easily extended by a large number of tools that take aviation forecasting to a higher level. These include:
Editing and disseminating aviation messages including TAF, METAR, SIGMET, GAMET, Windshear Warning and Aerodrome Warning. SIGMET and AIRMET can be also created in a graphical way, by indicating the phenomenon borders on a map.
Editing and disseminating graphical products, such as Low-level SIGWX charts.
Real-time TAF Monitoring Service which compares TAF parameters with continuously received METARs and SPECIs for the desired set of airports. User is alerted if configurable TAF amendment criteria are met or severe weather phenomena occurs.
Long-term TAF verification that evaluates the monthly forecast performance scores of monitored parameters for all or individual forecasters.
Integration of additional data sources such as satellite imagery, radar imagery, lightning detection network, wind-profilers, etc. These data can be combined with the standard OPMET, NWP model and SIGWX data.
See Aviation forecasting made easy for more details about tools for aviation meteorology.
Get connected to SADIS and WIFS
Aero Weather's flexible capabilities for data reception
and transmission include:
SADIS 2G receivers, incl. redundant satellite receivers
SADIS FTP system, incl. Secure SADIS FTP
NOAA WAFS Internet Service (WIFS)
Satellite broadcast reception
Message Switching Systems, GTS
Surface observation network
AFTN network
TCP/IP WMO stream protocol
User-ingested data
RETIM 2000, DWDSAT systems
Flexible file-transfer data exchange
Compliance
Aero Weather fully complies with the ICAO, SADIS and WMO standards and recommendations. See Compliance and compatibility for full details on our compliance.