A thunderstorm developing in vertical wind shear is quite rare in Bratislava, especially during the summer season. However, this year has brought us many of them, for example on Sunday 27th August. The 12:00 pm UTC Vienna sounding (approximately 60 km from Bratislava to the west) shows moderate CAPE and a very low CIN, despite the high level of free convection (LFC).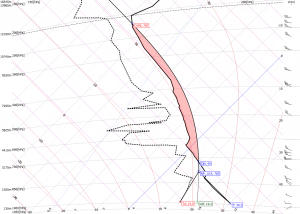 Figure 1 – The Vienna sounding from 27.8.2017 12:00 pm UTC reveals moderate surface- based CAPE and favorable vertical wind shearing for long-lived thunderstorms
However, the most important thing in this case was the vertical wind shear, which is necessary for a thunderstorm revitalization. Lower values of CAPE and high LCL can be misleading in these environments and severe thunderstorms can still develop.
Animation 1 shows a distribution of the deep layer wind shear (between 925 and 500 hPa levels) over Slovakia and a precipitation radar during Sunday`s afternoon shows. The storms moved quickly to the East and tended to be more persistent in the areas with stronger wind shear. The most intense thunderstorms were occurred in the northeastern part of Slovakia, some of them with a supercell behavior and very large hail.
Animation 1 – The precipitation radar (over 20 dBZ) and deep layer wind shear from 12:00 pm to 21:25 pm UTC
The intense precipitation cores occured up to 30 km north of Bratislava area but massive outflow was able to reach the downtown. The first sign of strong winds was long roll cloud over the Little Carpathians mountain (figure 2) and large amount of dust was swirled very quickly after it. The animation 2 shows a time lapse photography of the process.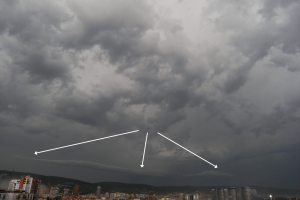 Figure 2 – The long roll cloud over the Little Carpathians mountain around 15:35 UTC – manifestation of an approaching cold air outflow from severe thunderstorm 30 km from the downtown
Animation 2 – Time lapse photography of the thunderstorm passing around and massive outflow swirling a large amount of the dust after 17:30 DST (15:30 UTC ). Animation is 100x faster than the reality.