The visualisation possibilities of Visual Weather are unparalleled.
All data displayed together, without waiting!
Overlay any of the available data types: topography, station observations (SYNOP, METAR), NWP model data, SIGWX, satellite and radar images in real time. Each data layer type can be customized to show the data exactly the way you want to see it.
Click the slide to see a larger image.

View different times, levels, models or charts simultaneously
Split the same map to multiple windows to easily compare different times, levels or models. Even multi-view of different data types is available, so you can compare various forecast parameters side-by-side.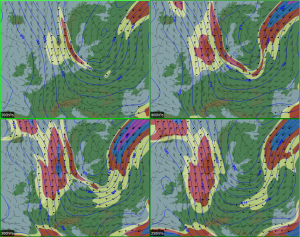 Reveal the 3rd dimension
Go beyond the two-dimensional map display and view route-cross-sections or meteograms based on the NWP model, observation, satellite or radar data. Interactively change the route or location by simply clicking points on the side map.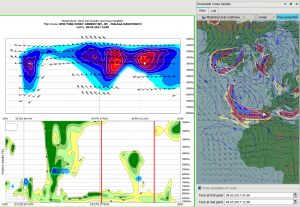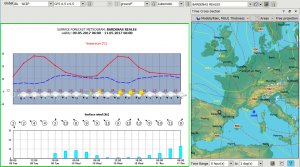 Thermodiagrams
Thermodiagrams can be plotted on the basis of NWP model, TEMP, PILOT, or AMDAR as the skew-T, stuvegram, tephigram, aerogram or hodogram. Values computed from upperair data (wind-shear, stability indexes, radar ducting, etc) are updated instantly.
Unlimited zooming and panning
Unlimited high-quality zooming ensures that you will see all details. You can select desired projection and the area of interest and have the reprojected data instantly displayed on your screen. Any place on Earth, any way you want.

Need a better output ?
All printouts and images maintain maximum resolution. In addition, Visual Weather is the first meteorological system ever allowing the incorporation of high- accuracy GIS data to be plotted so you can include cities, rivers, borders, or geospatial data of any kind.